What services does Strides Therapy Clinic offer?
What makes Strides Therapy Clinic different?
As part of a client's integrated plan of care, for occupational therapy and/or speech and language therapy, where appropriate the therapists at Strides use a treatment strategy known as hippotherapy (equine movement). Hippotherapy is one of many treatment tools used during a client's therapy appointment and is used as part of the client's much larger plan of care.
What is the difference between Hippotherapy and Therapeutic Riding?
As defined by the American Hippotherapy Association, hippotherapy refers to "how occupational therapy, physical therapy and speech-language therapy professionals use evidence-based practice and clinical reasoning in the purposeful manipulation of equine movement as a therapy tool to engage sensory, neuromotor and cognitive systems to promote functional outcomes." It is part of a one-on-one medical treatment strategy integrated in to a client's total plan of care.
Therapeutic riding is a recreational activity that has been adapted for those with special needs. It is typically provided in a semi-group or a group lesson by a qualified horse riding instructor. Goals are typically based around horsemanship skills, learning the art of horse riding and overall well-being.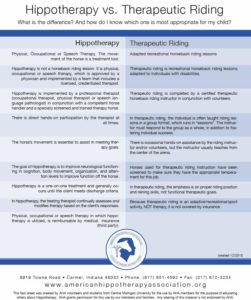 Who can benefit from hippotherapy?
Using equine movement as part of a client's integrated plan of care can benefit people from 12months old right through to adulthood. Take a look at our "Who we serve" section to see who equine movement may be a suitable treatment strategy for.
Why use the horse?
It's all about the movement! A horse's walk provides sensory input through movement which is variable, sustainable, rhythmic and repetitive. While the horse walks, the client moves up and down, back and forth and side to side through space. This type of three-dimensional movement cannot be otherwise replicated.

A horse's pelvis and a human's pelvis share the same three-dimensional planes. The movement transmitted from the horse's pelvis impacts the sensory, cognitive, neuromotor and musculoskeletal systems. Our specially trained therapists can manipulate the movement of the horse to provide exactly the sensory and neurological input each client needs to reach functional goals.

Our therapists use evidence-based practice and clinical reasoning skills to select horses for each client based on the type of movement they produce. This movement can then be graded and used in conjunction with other treatment strategies to achieve functional goals.

Typically, clients are quite motivated by the horse and don't realise that they are working on functional goals. Incorporating equine movement can increase motivation, engagement and participation in the treatment session.

The use of equine movement is evidence-based and has been proven to have a positive impact on a range of areas such as balance, muscle strength, posture, sensory processing, communication and motor planning.
Will my child be on the horse for the entire appointment?
No. As your child is attending for an occupational therapy or speech and language therapy appointment and the use of equine movement is used as one of many treatment strategies, the time spent on the horse will be determined by your treating therapist. Your therapist will use clinical reasoning and evidence based practice to determine the strategies used to best suit your child's needs. Where equine movement is an appropriate treatment strategy for your child, they may spend anything from 5 minutes to 30 minutes on the horse. Again this is determined by your therapist and may change or need adjusting week by week.
What happens the first day we arrive?
On your first day, you and your child will meet with your therapist and go through an initial interview, our intake forms and your therapist will conduct some clinical observations both on and off the horse. Where equine movement is an appropriate treatment strategy we do strongly encourage that we engage your child with equine movement on that first day. 
It is not uncommon for children, particularly the younger ones, to be a bit anxious or upset to begin with. It's a new place, with new smells, new faces and on top of it all an animal they may not have encountered before. It is important that we make that transition away from Mom/Dad/Caregiver and start the process of building a therapeutic rapport. It is not uncommon for children to find this transition difficult to begin with. All our staff and horses are trained and confident in managing a child who may become anxious or upset. 
Who can provide hippotherapy?
Qualified occupational therapists, speech and language therapists and physiotherapists can use equine movement (hippotherapy) as part of their client's integrated plan of care where appropriate. All therapists here at Strides have a Masters in their respective areas, have additional training in the specialised use of hippotherapy, are members of their profession's professional bodies and are registered with CORU. 
Using the horse surely can't help with things like fine motor skills?
Using equine movement as part of a client's integrated plan of care can be a prime opportunity to develop the skills needed to complete fine motor tasks. For example, when encouraged to weight-bear through their upper limbs while on the equine, a child is building strength in the small muscles of the hand and larger muscles in the arm and shoulder. This helps develop shoulder stability which is essential for good fine motor tasks. Equine movement can also help build manual dexterity, in-hand manipulation, strength and finger isolation which are all needed to carry out functional everyday fine motor tasks such as handwriting, using cutlery, brushing teeth, and tying buttons or zips on a coat etc.
I've never heard of a Speech & Language Therapist using a horse during an appointment?
It may be a very new concept here in Ireland, but speech and language pathologists in the United States have been using equine movement as a treatment strategy since the 1970's. Sarah was lucky enough to complete the majority of her training with a highly esteemed speech and language pathologist, Ruth Dismuke-Blakely. 
It is supported that the use of equine movement influences the sensory, neuromotor and cognitive systems required for speech production and communication, along with developing rhythm, fluency and motivation.
What should my child wear?
Comfy clothing with a closed toe shoe. Due to the unpredictability of our lovely Irish weather layers are good, as we can remove or add clothing as the appointment is taking place.
Where is Strides Therapy Clinic located?
Our clinic is a 10 minute drive from the Ballincollig bypass, in Co. Cork, Ireland.